Fri 25 July 2014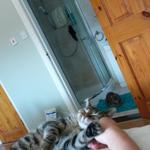 Yesterday was Moving Day for small cats everywhere. As predicted, Stranger didn't care and just wanted her head scratched, and Ping stared bloody murder and found some hiding places.
Overnight was uneventful, aside from the CCTV making noises at 0330 and complaining about SMART errors. Guess it doesn't like being on its side. Whoops.
Today, I am generally being around so the cats can have some semblance of normality, and I can catch up on lounging. Some goodies arrived from Vesternet so I'm going to take a ook at that later.
For now, I'm reading The Finder Library and enjoying the sun while it lasts. The cats are making various sorties into the rest of the house and being hilarious.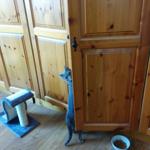 Comments