Sat 01 November 2014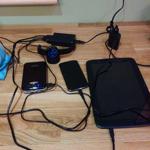 Off to Mountain View in the morning for 3 days, then onwards to New York. I haven't been to MTV since January, or NYC since June, so I guess I'm due in both.
This is the aeroplane survival kit. I don't sleep on planes, and Aer Lingus have transatlantic WiFi now, so this is indispensble. That's the work phone (Nexus 4), work tablet (Nexus 10), and the newly-acquired Moto 360 smartwatch, which the jury is still out on (pretty shiny so far though).
Three other pieces of indisensible kit are:
Anker ASTRO E5 battery pack for charging hungry gadgets on the road.
Anker 5-way USB charging thingo (2.4A on each of 5 ports for maximum charging goodness)
ASUS WL-330NUL USB ethernet and mobile hotspot, for sharing stupid one-mac-address wifi with all your gadgets (seriously, everyone should have one of these).
Hopefully I'll get some stuff done on the plane - I've yet to properly emulate the distraction-deprivation environment that planes give you.
Seeya on the other side, internet.
Category: Tech Tagged: log travel tech
Comments