Sun 05 October 2014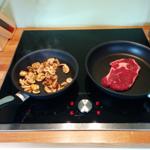 Trying to keep this thing up by doing worthwhile things. That was the idea, right?
I've been trying Paleo for the last few weeks, with a drop of about 1.1kg per week so far. Seems normal enough for exercise free diet change (from previous experience), and it's a bit easier on the palate than just caloric reduction or other stuff - we'll see how long it lasts. I've noticed a bit more energy certainly, and less feeling bloated and horrible. The first couple of weeks off work really took it out of me, and the brain can't really perform if the body isn't keeping up. It's too far out to be cycling to work any more, so diet will have to come first.
Motorbike stuff is still in the pant-shitting terror mode for a lot of it, which I hear is quite normal and healthy. I know I see it in the car as well, but inconsiderate arseholes are legion on Irish roads - people should have to spend some time on a bike or motorbike to understand this. On the other hand, we've had some great weather the last few weeks, and I'm enjoying the hell out of the long straight bits. Back in this week for some more refresher lessons.
Have also solidified travel for the next while - going to Munich, London, Mountain View and NYC before the end of the year; in short trips for the most part. Also, got a ticket for Border War next year - I'm so there I'm not even here.
Category: Log Tagged: log health motorbike
Comments