October 18 2014
Sat 18 October 2014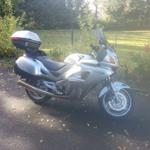 More inactivity! Mainly it's been ridiculously busy in work, mostly around performance reviews and a number of things sneaking up on me. They're sneaky, those things.
Doing a little more travel before the end of the year -- Munich, London, Mountain View and New York (twice). Yay. I've been very travel-light this year, so I guess I gots to pay my dues.
In other news, I own a motorbike now! It's a 2004 Honda NT650V Deauville. It'll do for now - I meanly needed a bigger bike after I discovered that the 250cc bike I was on was hardly pulling me, and I found it way, way easier to ride the school bike (an SV650S). Of course, I'd pick a day with gale-force winds to pick it up.
I've also booked my test, on advice of the instructor - I did an insurance assessment and was given a grade equivalent to 'has a full license and is a daily rider'. Which had the nice side-effect of 30% off my insurance. Let's hope I can keep that up when I don't have a dude following me and roaring at me over a radio.
Category: Log Tagged: log motorbike