Wed 20 August 2014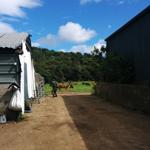 Sleep cycle being fucked up. That's the holiday sensation I know so well!
Last weekend, I was at a large (well, the largest of its kind in Ireland), Airsoft game, which meant a lot of driving and walking around, and not a lot of sleep. My feeble hu-man body is still getting over it, via some seriously lazy weekdays.
Tomorrow should see the beginnings of the hideous sickly-yellow colour the previous owners painted the outside of the house disappearing, to be replaced by a hopefully less sickly light green. I am not pretending to be even remotely competent at painting, so we're getting someone in to do it.
Me, I've been taking the last few weeks of my leave to spend time with favourite lady, enjoy the new place, and get to some nerding -- I've been messing about with LightwaveRF and getting it working nicely with my existing z-wave setup (and learning LUA and writing more golang in the process). More on that later.
Category: Log Tagged: log airsoft house nerd
Comments